Informing people travelling to Cuba
This item is intended for all people who wish to travel to Cuba, especially for an entrance with tourist status. Of course, I will also talk about the protocol for residents.
My husband and I own the casa particular "Casa Buena Vista", located in the Old Havana neighborhood.
Because of the global pandemic of Covid-19, we were forced to stay out of Cuba for an extended period of time. Finally, after months of waiting, we were able to reach Cuba this Sunday, December 13, 2020.
My husband is Cuban with residence in Cuba and I, Swiss without residence. This is how I am pleased to be able to inform you of the health protocol in practice, for tourism cases, as well as for residents!
So here's all the detailed information so far. You must also be aware that some of this informations are valid today, but may change in the future. So it's worth always keeping up to date with the protocols, at least a week before you travel.
How the trip unfolded
We left Geneva airport. Our flight stopped in Madrid, before heading to Havana. We didn't need to do a PCR test before we left, because Spain doesn't ask for it for transits and Cuba doesn't ask for it before the trip. At airports, as well as throughout the flight, the wearing of the mask is mandatory. On the plane, you can take off your mask only when meals are served. There is no other special protocol during the trip. On the other hand, allow enough time to check in at the departure airport, especially if you have a flight with a transit, because check-in staff must check what each destination country asks for documents to enter and then they must check that you have all these documents. We arrived at the airport about 2h30 before the flight and it was almost too short! If you can avoid this kind of stress, it's better!
Arrival at Havana airport
When descending the plane, already in the passage, an employee sprays your hands with disinfectant. Then, before passing through customs, a first screen by thermal imaging camera is carried out. Passengers are dispatched to boxes to do the PCR test. It's very well organized and it goes fast. A person in charge of dispatching people tells you which office to go to. There, a person gives you a small vial with a tag on it, as well as a small paper with the protocol and the number of your test (see photo and translation). On this little paper, it is mentioned in the protocol that you will have to stay in quarantine until the negative test of the performed on the 5th day, but in practice it is different for tourists and I will explain why later. When the box to which you have been assigned is freed, you go there and sit on the chair. A nurse makes you your PCR test and puts it in the small vial that she will keep to send to the lab. I paid absolutely nothing for this PCR test.
Then you head to passport control, as usual. Immediately after passport control, a person takes your temperature with an infrared thermometer and tells you your temperature. After that, you can pick up your luggage on the carpet. They come out a little wet because they are completely disinfected when they get off the plane.
You will then pass customs and if you have nothing to declare you go out. People who do not travel are not allowed to enter the airport building, if someone has to wait for you, they will be waiting outside the building.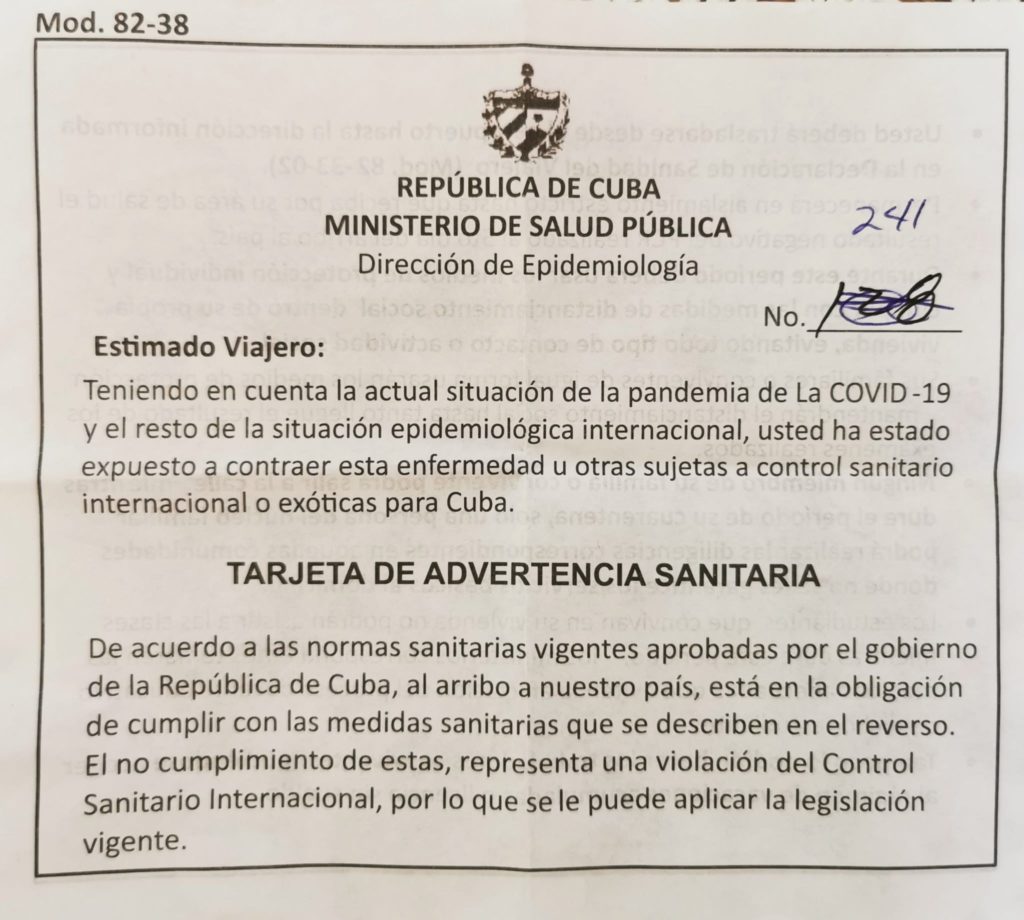 The protocol once entered Cuba
We arrived on Sunday evening. On the little paper we receive at the airport, it says that we have to stay in isolation, so that is what we did. On Monday, we had no sign from the health authorities. On Tuesday morning, two nurses came to our casa. You must wear a mask when you are in their presence (as well as in the presence of anyone else for that matter). They checked our data by asking for my husband's Cuban ID and my passport. And here's the protocol we need to follow:
For my case (tourist visa)

: the same afternoon (Tuesday) or no later than the next morning (Wednesday), I have to call the health center to get the result of my PCR test. If it is negative, I am totally free to go out. So for tourists, it's a matter of doing a single PCR test, the one they do at the arrival at the airport, waiting for the result 48h to 72h and then we are free to move.
For the case of my husband (Cuban resident):

he must remain isolated until the result of his 2nd PCR test, which will be done on the 5th day (Thursday). It is not very clear to us whether he has to go to the Policlinique or if they come to do the test at home. But we'll call them, because the nurse left us the number. So he will have to wait 5 days + 48 hours to 72 hours to be free, provided his test is negative.
The nurse also urged us to notify them immediately if any symptoms appear.
Well, we agree, these measures are a bit special, given that my husband and I are still very close and I can go out after my first test and he is not. But well, that's the protocol in practice. At the moment, everyone gets the same little paper at the airport and it is clear that it is written for Cubans and residents. But perhaps in the future, it will be adapted to the type of traveler.
A few hours after the nurses came, an inspector came to visit us, to check our presence at home. We were also told that our neighbour, who also has a particular casa, had Cuban-American clients who tested positive for their second test. They were ordered to go to the hospital to stay until they were recovered, but they aparently refused to do so. The authorities then came to pick them up with the police and all the artillery. So there you go, it's not funny!
For my part, I confess to being impressed by this organization and to see all these boxes with the health staff dressed as surgeons will remain engraved for a moment in my memory. It was very fast and really without any problems! Now if you're sick, cough, sneeze or have a little fever, you're not going to get very far. So just a tip, take a changeable ticket and do not travel if you have symptoms, to protect others and also to avoid some inconveniences at the airport or afterwards. It may be helpful to consider doing a PCR test before you leave, to make sure you don't have your vacation ruined.
What's next
When we are allowed out (soon for me), we will keep you informed of the situation and what it is or not possible, in terms of tourist visits.
Our casa particular
We are also pleased to announce that our casa particular will be open from the 1st of January 2021 and we look forward to welcoming you soon! We work closely with the health authorities in Cuba and take all the health measures that the situation requires us, to be able to protect as much as possible our customers, our family and our employees.
Please contact us if you have any questions and for your booking.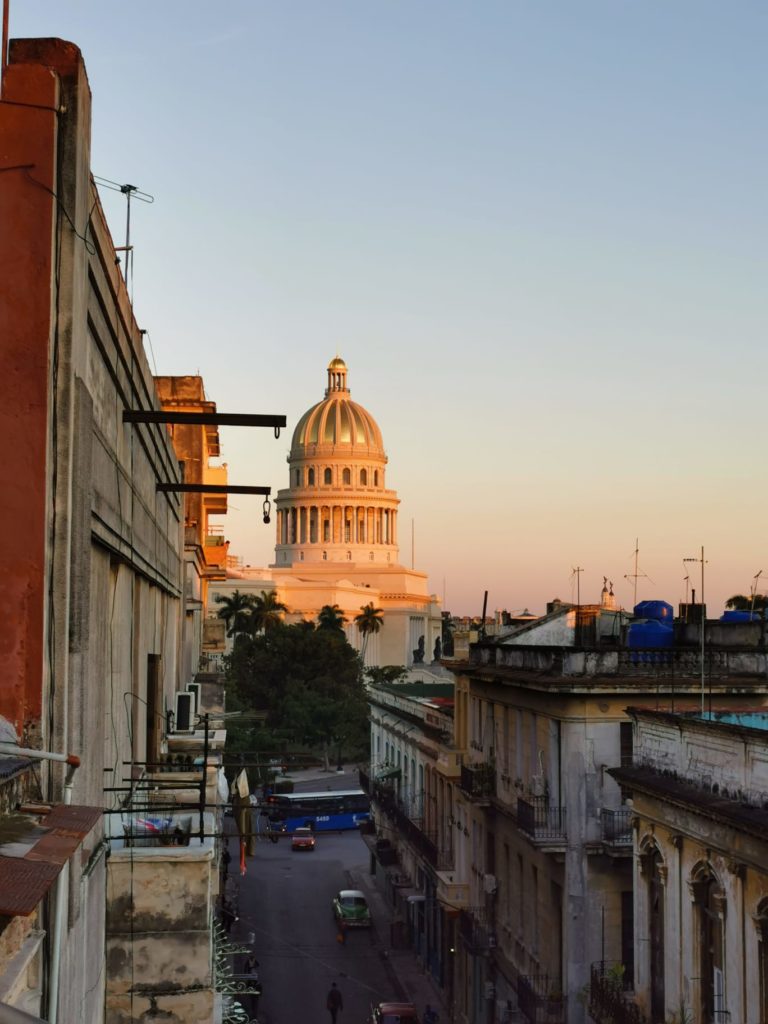 We are also on facebook: @casabuenavistahavana
We're also on instagram: @casabuenavistahavana
HASTA PRONTO!
Translation of the health protocol of the sheet handed over to the airport:
You are required to travel from the airport directly to the address you indicated in the Traveller's Health Statement (Mod. 82-33-02) ;
You will have to remain in strict isolation until you receive the negative result of the PCR test carried out on the 5th day of arrival in the country by the health centre;
During this period, you will have to use the means of individual protection and respect the measures of social distance, in your own dwelling, avoiding any type of contact or social activity;
Your family or roommates will also have to use the means of protection and will have to maintain the social distance until the results of the examinations carried out reach you;
No family members or roommates will be able to go out on the streets during the quarantine period. Only one person from the family nucleus will be able to perform the tasks outside, in communities for which basic home service is not possible;
Students living in the same accommodation will not be able to attend their course throughout the isolation period. The corresponding departments will take appropriate measures to prevent the educational process of these students from being affected.
Workers living in the same home will also not be able to go to work. They will be able to use the cumulative vacation plan or take unpayed days.