OUR CASA PARTICULAR IS OPEN!
Welcome to our casa particular in Havana, Cuba!
Are you planning to spend your next holidays in Cuba? During your stay in Havana, you want to be close to everything and be able to visit the city on foot? Don't look any further, we have just what you need! We are a Cuban-Swiss couple and we realized our dream of opening a casa particular in Havana, Cuba. It's located near the Capitol, more precisely in the Habana Vieja district. Our cousin Kenia and our friend Regla help us in welcoming our guests.
Our private house is 200 meters from the Capitol and a five minute walk from the Historic Center. We have a wonderful view of the Capitol from the balcony of our living room, which is available to our guests. It's a fabulous place to relax after a day of exploring.
We have three rooms, all with fans and air conditioning.
In addition, we offer meals on request. Our guests particularly appreciate our breakfasts, made with fresh market product.
We try our best to make our guests feel at home and to make their stay in our casa particular in Havana unforgettable.
Articles on various topics related to Cuba can be read on our blog. We hope you will find them useful to learn more about your future destination.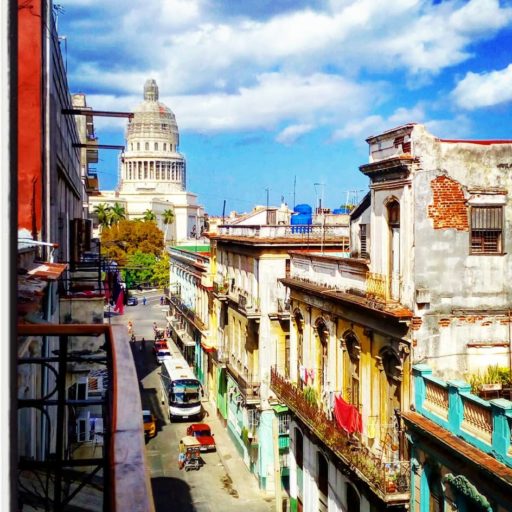 The view from our balcony 
Please contact us for any questions or for a reservation in our casa particular. Are you planning your next holiday in Cuba? Do you want to be close to everything during your stay in Havana and be able to visit the city on foot? Then look no further, we have just what you need!
On our website you will also find tips for transportation to other provinces and information for excursions in Havana.
Not familiar with the concept of a casa particular? Casa Particulars are rooms and were created in 1997 by the Cuban government. Casa Particular offers travellers many accommodation options. In addition, for Cuban families, it is an important financial resource. This concept is very popular with travellers and allows them to live as close as possible to the local population and to encourage intercultural exchanges. It is a unique opportunity to discover Cuba and we invite you to discover it with us!